#products
This year was as eventful as the last if not more. I finally managed to create a website! I intend to post updates on the year that has been. This year was great for work in the lab, but due to the time crunch, I did not share a lot of personal work or freelance work. Hopefully, I will be more regular in creating and sharing content in the next year. Sharing some of the stuff I made this year.
Zine on Gulmohar. Since I got exposed to the idea of zines, I wanted to make one. Having seen zines from other artists, I realized the potential and possibilities of exploration in this medium. In the first zine, I have put together, I go back to the idea of trees and the life associated with them in their vertical and horizontal, as a habitat and as apart of the habitat.
Limited copies, hand labeled, matte-finish paper available for INR 120. E-mail me to get yourself a copy.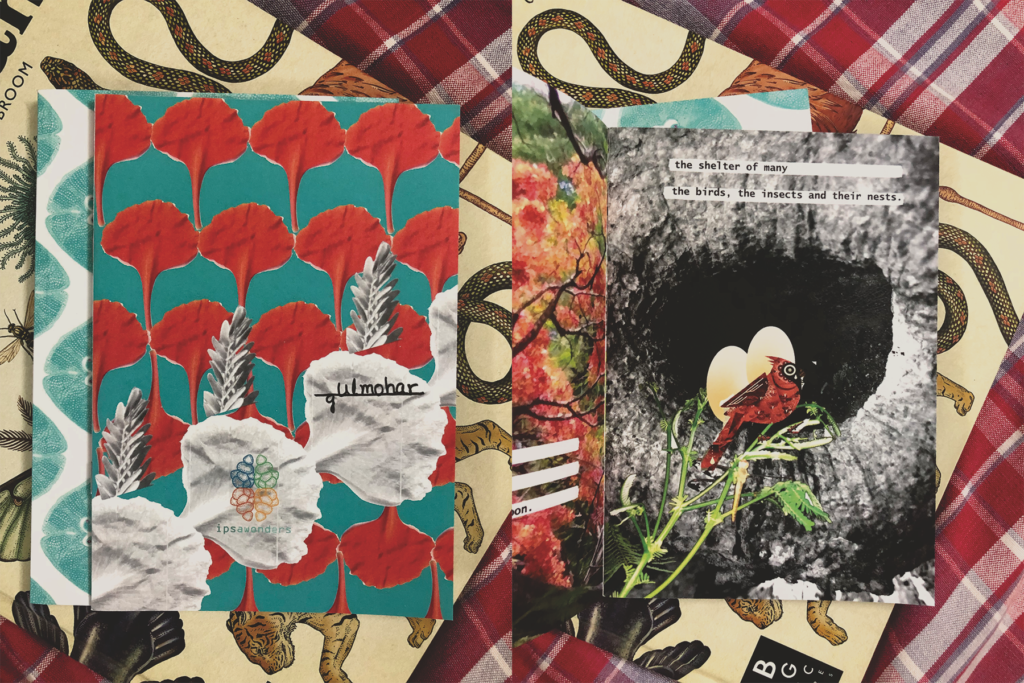 Anaglyph of the cell. Since I picked the book Jim Curious by Matthias Picard this summer in a tiny bookshop, I wanted to make an anaglyph of my own. With the help of Google the omnipresent, I was able to convert my hand drawing into a joyful postcard. In the composition, a stimulus travels to nuclei of a cell, causing a series of events that ultimately cause the cell to respond.
This drawing also featured during Comic-Con Bangalore as an add-on to a science fiction book by my friends Ravi menses and Rahul Mohsin.
Available on photo paper with 3D-glasses and the description on a separate sheet for INR 80. E-mail me to get yourself a copy or more. Makes an excellent gift for children and childlike adults.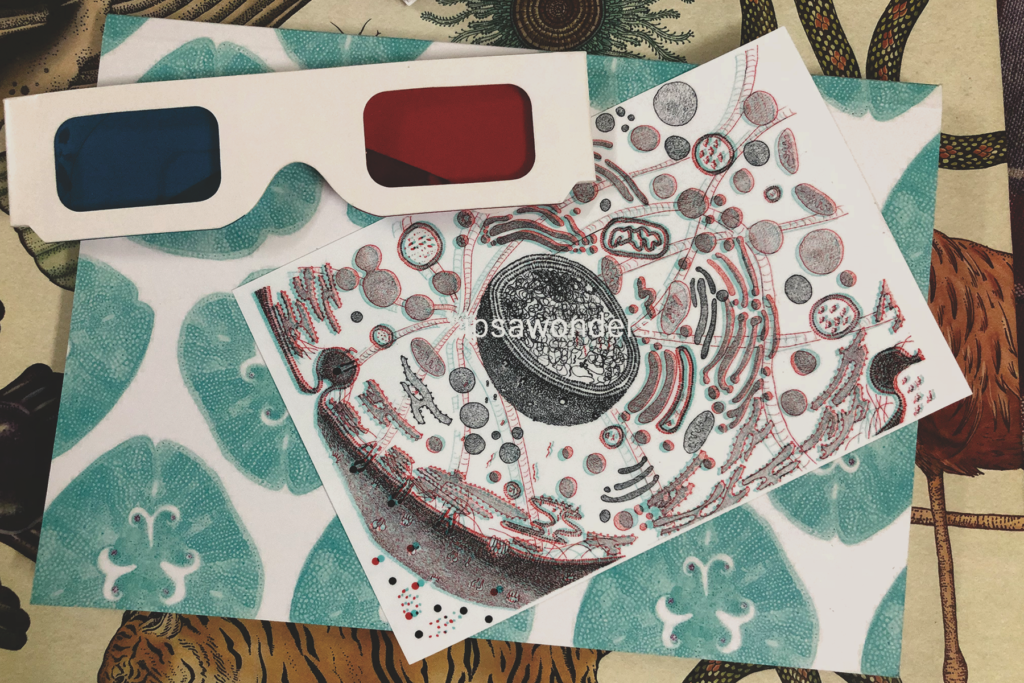 Notebooks with flowers. If one were to browse through my old notebooks, it is easy to stumble upon a flower or leave pressed inside it. I realized that plants and notebooks have a relationship. With a botanical twist, I painted and printed cross-sections of ovary and anther of a plant on the book cover. The inside of the A5 sized notebook is 120 GSM whitepaper, great for writing (esp with ink) and pen, pencil sketches and light color washes.
A5 sized, blank notebook available for INR 250 (the set for INR 450). E-mail me to get yourself the set.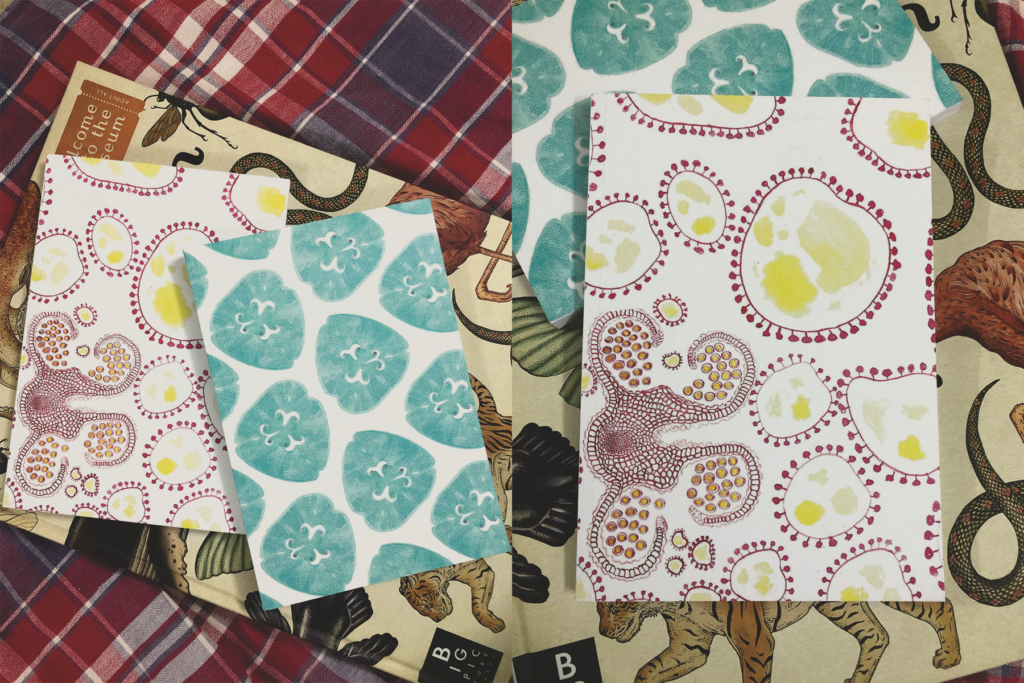 Calendar cum coloring book. After finishing two stock runs last year, I created some more copies early this year. A few copies remain in stock. The calendar can be used in a desktop version as well as a notebook version. A perpetual calendar where you choose the year and write in the dates. There are a lot of under-represented and unappreciated animals and bugs that need color of your imagination to bring them to life.
7" X 7" calendar printed on 100 GSM paper, good for watercolor as well as pencil colors, hardbound with spiral binding, available for INR 500. E-mail me to get yourself and yours a copy.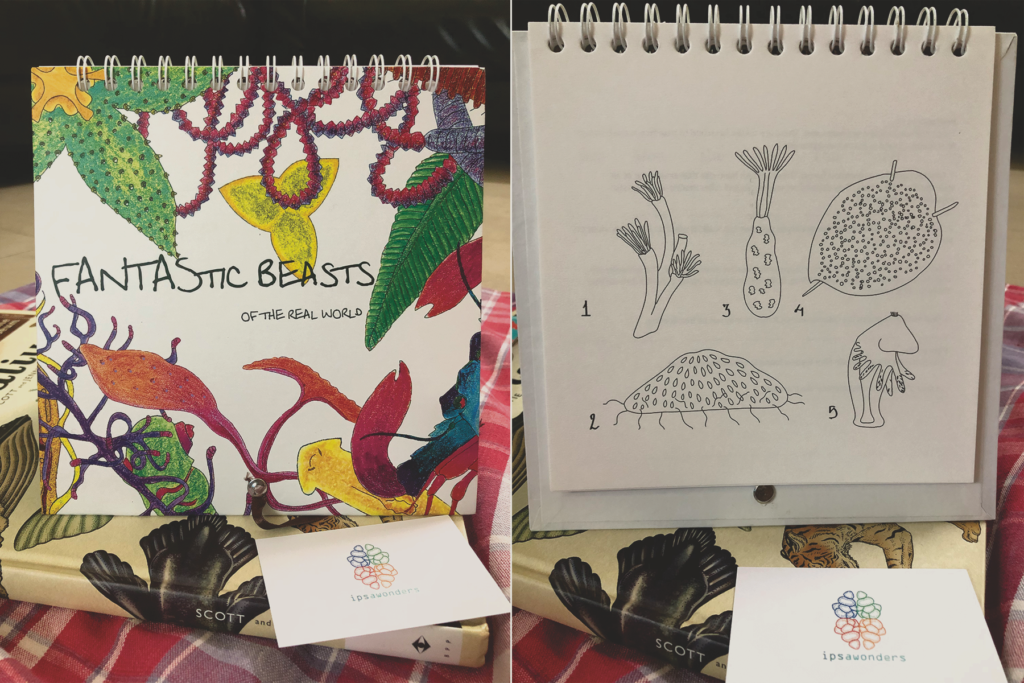 Shipping charges extra on all orders.
This Christmas and New year's, shop from artists and independent sellers! Happy holidays.
More soon on what I taught and what I learnt this year!